About Us
OWCP Lawyer Robert W. Nizich – A Law Office That Cares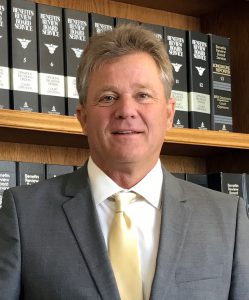 Attorney Robert W. Nizich has continually gone above and beyond the call of duty in his work as a committed Office of Workers' Compensation Program (OWCP) personal injury lawyer and as a community leader. His exceptional accomplishments in all facets of his life reflect his determined character and dedication to justice.
If you or a loved one has been injured in an accident and would like to receive compensation for medical bills and other financial losses, please contact Robert W. Nizich at his law office today to file your workers' compensation claim.
After graduating with a Bachelor of Arts degree in Political Science from the University of California, Los Angeles, Robert W. Nizich earned a Juris Doctorate from Southwestern University. Since 1980, he has fought for the rights of injured longshoremen, harbor workers, shipyard workers, seamen, government contractors working overseas, and offshore oil rig workers. After 11 years as an OWCP lawyer with another law firm, Robert opened his own law office in 1991. The Robert W. Nizich Law Office staff believes in maintaining good communication with clients and standing steadfastly for the rights of injured workers. Our practice has been a pillar of excellence in the field of maritime and workers' law, and Robert W. Nizich's contributions have not gone unrecognized by others.
An OWCP Lawyer Dedicated to Your Rights
For more than 35 years, OWCP lawyer Robert W. Nizich has fought to recover compensation for America's hardest workers. If you have been injured, you may be entitled to compensation for medical bills, lost salary, and the suffering you have undergone. He will fight for your case with the same leadership, commitment, and passion that his history demonstrates. Contact our law office today and discuss your case with an experienced attorney who cares for his clients and is committed to obtaining legal justice for you and your loved ones.
Relevant Cases
The law office of attorney Robert W. Nizich has successfully handled a variety of diverse workers' compensation cases. We are proud to have represented our clients and enabled them to recover compensation for injuries suffered as a result of employer negligence. Below is a sampling of notable cases. Additional published cases can be researched in the Benefits Review Board Service.
Brown v. Manson Coast
39 BRBS 69(ALJ)
Construction Worker
Javier v. BSI Inspectorate
39 BRBS 369(ALJ)
Petroleum Inspector
Jelenic v. San Pedro Boat Works
27 BRBS 707(ALJ)
Shipyard Worker
Bautista v. CSS
37 BRBS 798(ALJ)
Longshore Worker
Sestich v. LBCT
289 F. 3d 1157, 36 BRBS 15(CRT)
Longshore Worker
Dundov v. San Pedro Boat Works
34 BRBS 189
Shipyard Worker
Lorimer v. Great Lakes Dredge
34 BRBS 263(ALJ)
Shipyard Worker
Buchanan v. ITS
33 BRBS 263(ALJ)
Deck Hand
Hunter v. Adams and Smith
33 BRBS 717(ALJ)
Ironworker
Buturovich v. Eagle Marine Services
31 BRBS 621(ALJ)
Longshore Worker
Ljubic v. United Food Processors
30 BRBS 143(ALJ)
Maintenance Worker
Salazar v. Sealand
29 BRBS 908(ALJ)
Refrigeration Mechanic
Papalexis v. Sealand
27 BRBS 21(ALJ)
Parts Coordinator
Raimondi v. Southwest Marine
27 BRBS 99(ALJ)
Shipyard Worker
Rounds v. Chevron USA, Inc.
24 BRBS 227(ALJ)
Descendant of Offshore Oil Worker
Bilicic v. Wilmington Marine
23 BRBS 23(ALJ)
Shipyard Worker
Wilson v. Crowley Maritime
22 BRBS 459
Barge Tankerman
Wilson v. Matson
21 BRBS 105
Longshore Worker
Comparsi v. Matson
16 BRBS 429(ALJ)
Longshore Worker
Barker v. ITS
14 BRBS 41(ALJ)
Mechanic
Did You Mean
Robert W. Nizich is commonly misspelled at Nizic, Nisitch, and Nizitch.